Home
Dale & Ernie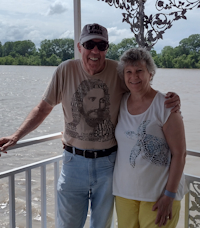 Send an E-Mail to Dale or Ernie or Both Of Us



Press "Ctrl-D" to bookmark this page.




Meet Ernie
God has been very good to Ernie, he can see God's hand at work throughout his life.
Ernie grew up in a town where he could walk out his back door and within 100 yards be in a wooded area and in ¼ mile be at a lake that was great for fishing and swimming. Downtown, with major department stores, a movie theater, a drugstore with a great ice cream counter, and diners, was about ½ mile away. A mile in the other direction were apple orchards. It was a great place to be a kid, there was a diversity of things to do and see. Everyone in town knew each other and kept an eye out to make sure nothing happened to each other's kids.
When Ernie was very young it was a time when employers did not offer health insurance. Due to high medical bills because of problems that Ernie's Mom and Grandmother had, Ernie's Dad worked two full-time jobs and one part-time job, so he was not home much. Ernie has three sisters and his Grandmother lived with the family, so most of the time at home was Ernie and five females. God decided Ernie needed a brother, so when he was about 3½ God lead his family to move into an apartment in a housing project. In the next door apartment lived a family with a son Ernie's age who became the brother Ernie needed.
Ernie is a very shy person so he did not have a steady girl friend until he was 20, at which time he met Karen. Shortly after meeting, Ernie and Karen started dating. On October 5, 1969 they married. On July 30, 1970 their first son, Michael, was born and on March 19, 1972 their second son, Ern, was born. Their marriage ended in 1974. Ernie and Karen have remained good friends.
In 1987 Karen moved 1,500 miles away and Michael and Ern went with her. Through letters and a couple of visits to and by them each year, Ernie was able to stay in close contact with Michael and Ern. Other than for a few years that Michael came to live with Ernie before going back to help his mother out, Michael & Ern have lived more than 1,000 miles from Ernie.
After the divorce, Ernie became a member of Parents Without Partners and attended their meetings and dances. He met and dated several women with the determination of not marrying again. Around April 1976 he met Donna. Their first date was a month or so later and by September they were dating on a regular basis. On July 29, 1978 they were married. They did not have any children together, but Donna had 3 children from a previous marriage, Mike, David, and Christine. So Ernie had two more sons and a daughter. Neither Ernie nor Donna can explain exactly what happened, but in 1991 they separated and in 1994 they divorced. Donna has remained one of Ernie's best friends. Ernie has stayed close to Donna's three children and five grandchildren, loving them as his own.
Ernie once again began attending dances. At that time in this area there were organizations that held open or singles dances. After dating a few women and actually being engaged to one for a short time, in early 1997 Ernie asked Dale to dance. They danced frequently and sometimes went places together, but they did not start dating for 1½ years. On August 5, 2000, Dale and Ernie married. Ernie was blessed with a wife, two more daughters (Gale, and Jeannine) and two more grandchildren (a third grandchild came along in August 2004) all of whom he loves as his own.
The time that Dale and Ernie spent getting to know each other before dating gave them the opportunity to become very good friends. They each consider the other to be her/his best friend.
Elementary through high school Ernie found school work easy, but did not like school. He did as little as possible and still maintained A's and B's in courses he did not completely hate and C's in the ones he did hate. Every time that the school gave aptitude tests Ernie would score in the 90TH to 95TH percentile, so Ernie would be called into the school counselor's office to be asked why he was not enrolled in the college curriculum and why he did not put more effort into his school work. He would tell them he did not like school and had no desire to go to college. They would tell him that if he did not study he would end up working as a common laborer at the largest employer in town, a book printing company.
Having heard it often enough, Ernie decided to get a job at the printing company as soon as he turned 18. He was hired in the Composing Room (the department that sets type) to operate a proof press. This was the start of a 12½ year career that saw him advance to the position of Journeyman Hand Compositor and for a time he was the second shift foreman of the Hand Composition department at the second book printing company for which he worked. This was a career that was very rewarding, both financially and in personal gratification.
As the industry's technology advanced with offset printing and computer typesetting it became cheaper to do typesetting on a computer than using lead type. Since with computer typesetting there was only a need for a couple of experienced overseers with the bulk of the work being done by unskilled labor, to be competitive the company decided to close down their lead typesetting department to save money. When the lead typesetting area was closed Ernie was laid-off as a couple of people who had been with the company much longer were chosen to be the overseers in the computer typesetting department.
God once again stepped in, on his way into the employment services office Ernie ran into a former fellow employee who had been laid off months before Ernie. The former fellow employee complained to Ernie about having to take an aptitude test to continue receiving unemployment compensation. When Ernie talked with his case worker he asked if he needed to wait until it was mandatory or if he could take the aptitude test earlier. The case worker setup having Ernie take the test. Ernie having scored in the 95TH percentile for general intelligence and math and the 90TH percentile for reading comprehension, the case worker told Ernie he had the aptitude to do just about any job he wanted. The case worker gave Ernie the name of a book that listed all jobs, the qualifications and education required, and future outlook for each job. He told Ernie to look up jobs in the book in the library then return with a list of jobs for which he might have an interest. When Ernie returned with the list, the case worker talked to Ernie about becoming a computer programmer ignoring everything else on the list. This lead Ernie to go to a 2-year school to learn computer programming. When he went to his first class he looked around and realized that almost all of the other students went into kindergarten the September following the June in which he graduated from high school. He decided that to have hiring people take a serious look at him, he would need to out perform all these younger people. Unlike in high school, Ernie applied himself to the school work and graduated with a 4.0 GPA (straight A's). After a short stint with a service bureau as a computer operator/programmer, the emphasis on operator, in June 1979 he started working as a computer programmer for an engineering company.
Ernie worked through the ranks at the engineering company becoming a senior computer analyst. For a short time he was the supervisor of the mainframe computer users support group, until he convinced his bosses that he and the company would be better off if he were doing technical work instead of writing status reports and attending lots of meetings every week. As rewarding as working in the printing industry had been, working in the computer industry was even more rewarding in all ways than being a printer had been.
After 19½ years the company was sold to another engineering company and things went downhill quickly. In March 2001, Ernie left this company and started working for a public utility. Though this was not as fulfilling as when he worked for the original engineering company, it was much better than if he had stayed with the second engineering company. This is especially true since the engineering company was bought by another company and the local IT department was down-sized to 1 part-time contractor, so Ernie would most likely have been laid off. As of April 2, 2011 Ernie is retired.
Ernie enjoys worship and fellowship with his church family, spending time with kids, grandkids, and great-grandkids, traveling around the country with Dale, dancing, doing jigsaw and mind expanding (crossword, suduko, kakuro, etc) puzzles, vegetable gardening, and doing other yard work. Though most people look at him as if he is strange, Ernie also enjoys shoveling snow. From 2003 through 2018, Ernie taught line dancing with all proceeds going to a local charity in the area.
Return to Top
Last updated: jul 05 2020